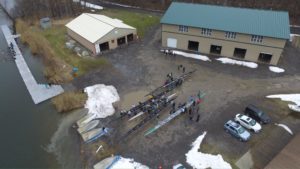 The CHARGERS are proud of the relationship it has developed with area high schools. Initially, Liverpool High School was the sole high school rowing program affiliated with the CHARGERS.

The CHARGERS relationship with Liverpool continues today, and has expanded to include:
 Syracuse City Schools (1995) Baldwinsville Schools (2000) Fayetteville-Manlius Schools (2004) Lemoyne College (2013)

From 1995 to 2000, the CHARGERS hosted the US Rowing Club National Championships. These four-day events brought national attention-as well as travelers and their dollars to the Syracuse community. The '97 event alone drew approximately 10,000 spectators to the area. US Rowing, the governing body of rowing in this country, has asked the CHARGERS to host future regional or national regattas.

The CHARGERS have also hosted the US Rowing Masters Nationals, another four-day event with over 1200 participants.

In the spring of each year, the Club hosts the Syracuse CHARGERS Invitational Regatta, which consistently draws over 1000 New York State high school athletes and their families.

We also host the Section III regional's.